You've planned out the perfect job ...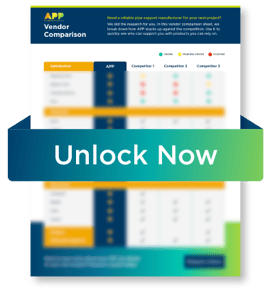 ... now it's time to select the most responsive, competitively priced, and customer-oriented pipe support manufacturer you can find.
This comparison chart will help you evaluate the capabilities and products of four pipe support manufacturers in order to find the best solution for your organization.
This vendor comparison assesses:
Customer satisfaction
Product availability
Custom fabrication options
And more ...
How does APP stack up against the competition? Find out. Fill out this form to download the APP Vendor Comparison now.