Mastering the Art of the RFQ?
The bidding process, and sorting through the paperwork that goes along with it, is stressful. More so when you don't get all the information you need because you failed to ask for it in your request for quotation (RFQ).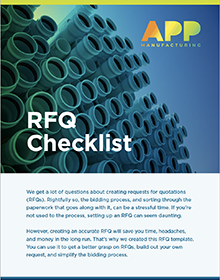 Creating an accurate RFQ doesn't have to be a daunting task. Save time, headaches, and money when you ask the correct questions and request the correct information the first time around.
Download this convenient RFQ Checklist to:
Get a better grasp on RFQs
Build out your own request
Streamline your bidding process
Complete the form and click "Submit" to access the RFQ Checklist.