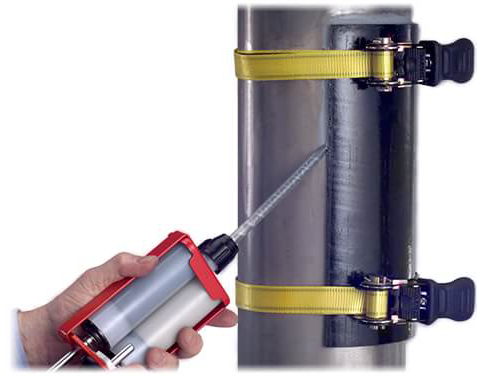 Epoxy Adhesive
APP's epoxy adhesive is used to form a perimeter seal around our ProTek Wear Pads (pictured here), ProTek Flat Plate and CryoTek Pipe Shoes to ensure a secure bond and seal. In addition to flexibility, the epoxy features a high shear and peel strength.
Static Mixer Tip
The tip of the static mixer expels the two-part epoxy in the perfect 1-to-1 ratio.
Manual Dual Component Applicater
The applicator removes issues with human error and cleanliness and will allow for a consistent installation every time.
Epoxy Adhesive Specifications
Composition
Two-part epoxy
Size
6 oz. cartridge
Ultimate Strength
2,730 psi
Bonding Cure Time
24 hours
Temperature Range
-320°F to +400°F
Mix Ratio
1-to-1
Military Spec
Meets DOD-A-82720
Installation
Watch wear pad installation video
Required Accessories

Static mixing nozzle (EX-200)
Epoxy applicator gun (EX-500)

Benefits

In stock and available for immediate shipping
Durable, long lasting, high performance in extreme work environments
Retains its strength even after environmental aging
Resistant to extreme shock, vibration and flexing

Pricing
Request Pricing for this product