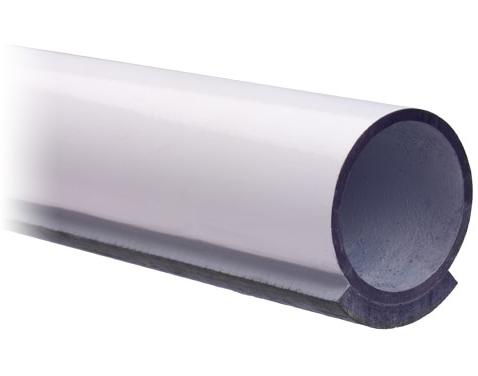 Wear Pad Installation (pdf)
The wear pad can be installed before or after paint/coating is applied, during fabrication or in the field.
Wear Pad Manufacturing
The wear pad is manufactured to the exact outer diameter of the pipe for a precise fit and seal. The inside is pre-roughened ID to NACE 1 coating specification to provide anchor profile for epoxy.
ProTek Composite Wear Pads Specifications
Composition
APP-VEFR
Maximum Compressive Strength
53,000 lbs. per ASTM E8
Temperature Range
-320°F to +400°F
Installation
EX-100 Epoxy System, installation video in English or Spanish
Required accessories

Epoxy (6 oz. cartridge)
Static mixing nozzle
Epoxy applicator gun

Custom manufacturing
Available in any thickness, degrees of coverage and length
Benefits

In stock and available for immediate shipping
Low cost of installation: no welding, hot work permits or highly skilled personnel required
Product minimizes maintenance and operational costs throughout the lifetime of the piping system
Our Wear Pad inside diameter precisely matches outer diameter of pipe
Our Wear Pad Inside Diameter (ID) is pre-roughened for exceptionally high epoxy-to-wear pad bonding strengths as verified by ASTM D5528-01
We provide on-site installation training and inspection services for all fabricators, constructors and end users that install our products at no charge

Standard Sizes

| Pipe Size | Thickness | Angle "A" | Length |
| --- | --- | --- | --- |
| Up to 4" | ¼" | 90° | 12" |
| 6" to 10" | ¼" | 60° | 12" |
| 12" to 20" | ¼" | 30° | 12" |
| 24" & Larger | ⅜" | 30° | 12" |

Part Numbers
Download a complete list of part numbers (pdf)
Pricing
Request Pricing for this product