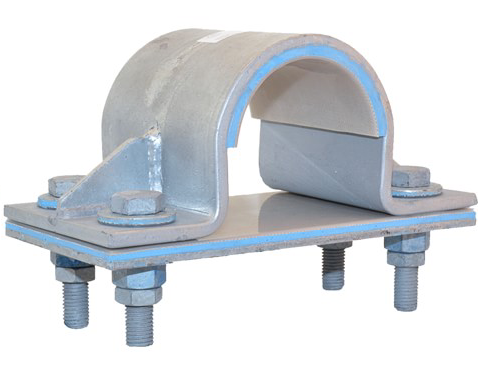 Precise Fabrication
APP's VibraTek Hold Down Clamps are precisely fabricated to 1/32 of an inch.
VibrakTek Liner
APP's VibraTek Hold Down Clamp liner is molded to the inner diameter of the clamp for a consistent thickness and precise fit.
Bonding
APP HB-Teflon has glass fibers embedded on the bonding side, which eliminates the problems traditionally associated with adhering Teflon.
VibraTek Hold Down Clamps Specifications
Composition
APP-VibraTek and HB-Teflon
Maximum Compressive Strength
20,000 lbs.
Temperature Range
-60°F to +450°F
Installation
Field install
Required accessories
None
Custom manufacturing
Will fabricate to specific dimensions
Benefits

Effectively prevents unwanted and unaccounted for stress to piping and structural components
Our liners are molded to the clamp's inside diameter, ensuring a consistent thickness and secure bond
The VibraTek will not harbor moisture due to its hydrophobic and non-porous properties, significantly reducing the occurrence of corrosion.
Our HB-Teflon will not delaminate due to the strong mechanical bond created by fibers infused during manufacturing

Pricing
Request Pricing for this product