Other Fabricated Supports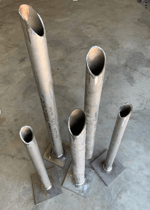 Although composite pipe supports have a wide range of benefits and applications, APP understands there are times when the industry requires a broad aggregate of metallic pipe supports to meet your project's needs. Process temperatures and design parameters may require physical properties that are beyond the scope of composite materials. This is why APP offers a selection of metallic t-slide pipe shoes that offer either welding attachment or clamped restraints. If corrosion resistance is a concern, we also offer lined options for the associated t-slide pipe shoes.
Pipe Stanchions
A pipe stanchion is a rigid support that prevents movement in the piping systems in any direction; upward, downward, or sideways without allowing any rotation in the system. Holding the piping in place while directional and interior forces try to disrupt the system requires the highest level of rigid anchorage.
Pipe Trunnions and Dummy Legs
Trunnions are used on sections of pipe as a support stand. They can also be a pipe branch that is added to a straight pipe, elbow or transition. They are best used when little to no movement is foreseen.
Pipe Guides
A pipe guide attached to a stationary structure, guiding pipes while still accounting for slight pipe movement.
Pipe Stops
Pipe Guides that restrict movement in two directions, protecting pipes from bending and buckling.
Pipe Anchors
Pipe Guides that restrict movement in all 3 dimensions.
Structural Metal Supports
Miscellaneous structural steel supports for bracing and arranging piping in pipe racks. Tee posts, knee braces and trapeze supports are generally custom-made for field installation.
Custom Metal Fabrications
Made to spec based on the customer's needs and drawings provided.