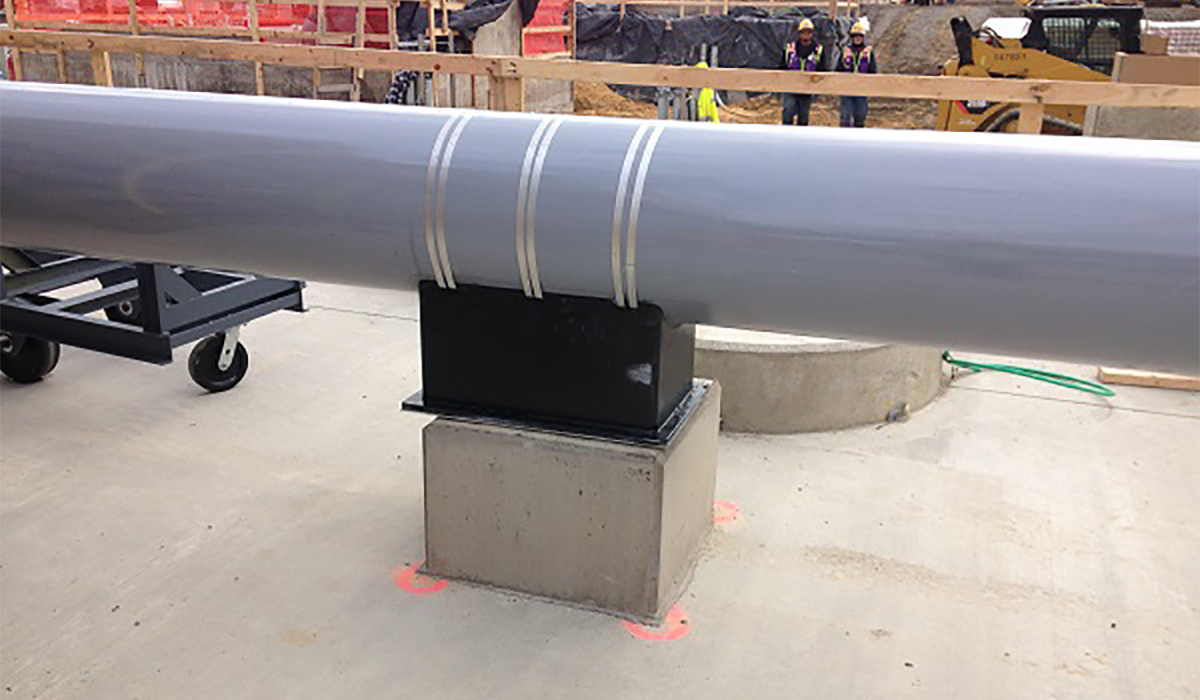 If you're researching pipe shoes, you might have already heard people in the liquid natural gas (LNG) industry recommend CryoTek Pipe Shoes as a new option. And for good reason. These advanced pipe shoes are built to skyrocket your piping system's performance.
Wondering what the conversation is all about?
Read on. In this article, we explain the role of these pipe supports and highlight the six features that make CryoTek Pipe Shoes critical to your research.
What's the Role of Pipe Shoes?
Before digging into what makes CryoTek Pipe Shoes special, it's worth clarifying what your pipe shoes should be doing. Pipe shoes support pipes by elevating them and lifting them off of the ground, beams, or other support structures. An effective pipe shoe will stop metal-on-metal damage, cut off destructive heat transfer, reduce pipe stress, and keep pipes from corroding.
How Are CryoTek Pipe Shoes Unique?
What makes CryoTek Pipe Shoes so special? Here are six important features you may not know about:
1. Cool-Down Compatibility
CryoTek Pipe Shoes are known as the premier solution for cool-down systems, such as LNG, ethylene systems, and other cryogenic piping systems. It's because they're equipped with advanced temperature-resistant technology that protects pipes in extreme cold. In fact, our CryoTek Pipe Shoe was originally designed specifically for cryogenic piping conditions.
Cold climates can be tough on pipe supports that aren't built to withstand the elements. Worse yet, pipes are fragile in frigid environments, and ice formation can wear down both pipes and supports. However, CryoTek Pipe Shoes are designed to support pipes in temperatures as low as -320°F. They're created to safely encapsulate the fragile insulation used in cryogenic piping systems, and they can prevent costly repairs in the future.
Also, because they're nonconductive, they stop thermal transfer from the interior of pipes to surrounding structures. CryoTek shoes are made up of foam insulated cores that naturally keep pipes from sudden temperature changes or heat transfer. By keeping heat inside pipes, you save energy and stop the ice formation that can destroy pipes.
2. Composite VEFR Technology
Chances are, you already understand the basic advantages of composite materials. But you may not know how composite vinyl ester fire retardant resin (VEFR) takes pipe shoes to the next level.
First, the composite VEFR that makes up CryoTek Pipe Shoes is designed to prevent ice formation that can wreck pipes in LNG systems.
Second, just as the shoe's material stops cold transfer, it also stops heat transfer, which protects from the damage of thermal expansion.
Finally, because both the cold and heat remain in your pipes, where it belongs, your system is able to avoid major temperature changes and retains more energy—which turns into more money in your pocket.
3. Rapid Installation
When it comes to the piping industry, the less downtime and faster turnaround, the better. Every second you save is more money in your pocket. This is where CryoTek Pipe Shoes really save a company money.
Compared to traditional pre-insulated metallic supports, CryoTek Pipe Shoes take a fraction of the time to install. And they don't require specialized labor to install or maintain. Also, because they don't need to be welded, you save money on inspection costs or other welding expenses.
4. Built-In Insulation
Insulation is crucial if you want to prevent energy transfer, condensation, and ice formation. Unfortunately, insulation can be delicate and brittle—especially in extreme temperatures.
However, CryoTek Pipe Shoes encapsulate and protect your insulation. Because the shoe's FRP design can fully support heavy pipes, your insulation doesn't need to bear any weight. You can install the shoe directly to your pipe and easily add insulation around the shoe's simple rectangular shape.
The advantage?
You can fully insulate pipes, preserve insulation, and keep pipes protected longer.
5. Lightweight Makeup
When it comes time to transport or install equipment, weight can drastically affect a job. If you have to work with hefty equipment, it could spike shipping costs, impact how fast you turn around projects, and affect how well you hit deadlines.
The weight of your pipe shoes also affects your whole piping system's structure. If you're using heavy pipe shoes, you'll need to engineer your system to handle those heavy loads. That all takes extra planning, time, and money.
CryoTek Pipe Shoes are lightweight and are easy to handle. That means you can transport and install them without any heavy-lift equipment or structural additions. But don't let their lightweight makeup fool you—here's a video of the CryoTek Pipe Shoe withstanding a 10-pound sledgehammer.
They've also been proven to withstand heavy loads at subzero temperatures. In one test, we immersed an 8-inch pipe size pipe shoe in a -320 degree bath of liquid nitrogen. After twenty minutes of exposure to this extreme cold, the shoe could handle a compression load of more than 330,000 lbs—roughly the same weight as two fully-loaded jumbo jets.
Learn to Spot the Best Pipe Shoe for Your Piping System
Despite the advantages of CryoTek Pipe Shoes, there are plenty of quality pipe shoes out there to choose from. The trick is finding the right one for your unique situation.
Want to learn how to choose the right pipe shoe for your system? Download our Complete Guide to Pipe Shoes for all you need to know about these important pipe supports.