We often describe the APP VibraTek Hold Down Clamp as "the premier solution to problems associated with vibration in piping systems." That's because the innovation represented by VibraTek technology is miles beyond that offered by our competition. Our uniquely effective liner is built onto an industry-standard clamp, taking an existing design and adding a liner unlike any other in-market product—one that effectively combats your everyday challenges. It's designed to prolong the life of your piping system, but more than that, to head off problems before they get a chance to become problems. Innovation, we believe, is about being proactive—not reactive.
A heavy-duty pipe clamp, built to last
"Proactive," in the form of the APP VibraTek Hold Down Clamp and Liner, means a design created to combat breakage, dampen vibration the right way, prevent liner failure, and withstand high-pressure clamp loads. It starts with the industry-standard clamp, which can be modified to suit your needs; good chemical and heat resistance are built in.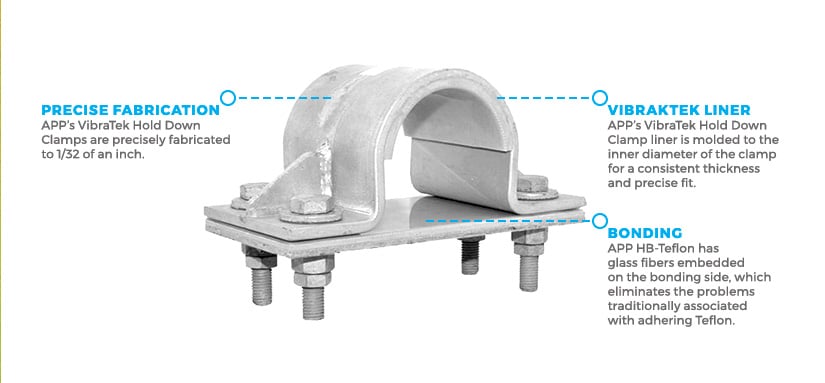 Innovative clamp liner and a precise fit
Onto this solid base, we add our proprietary VibraTek Liner. It's composed of a vibration-dampening material made into a fiber-backed Teflon sheet. The glass-fiber-backed (or "hairy") sheet is formed to the inner diameter to the clamp, creating a strong mechanical bond and leading to a very low coefficient of friction between pipe and clamp. The VibraTek Liner allows for axial movement while mitigating the effects of vibration.
The innovation goes beyond simply using Teflon as a liner. Teflon alone is not engineered to bond to surfaces over a long period of time, and when used as a liner on a curved surface (more prone to point loads) vs. a broad, flat area with evenly distributed load, the chances of piping system failure increase. The APP HB Teflon Liner, with its precise fit, circumvents these Teflon liner-related challenges.
That precise fit also results in less opportunity for liner delamination. The VibraTek Liner is a liquid made of rubber which is poured into the clamp, offering a secure bond, consistent thickness, and that precise fit we mentioned. Other liners (whether poorly installed, poorly constructed, or used incorrectly) can't withstand vibration the way the VibraTek Clamp and Liner can. Their imprecise fit leads to poor vibration absorption, corrosion, and eventual breakage and failure.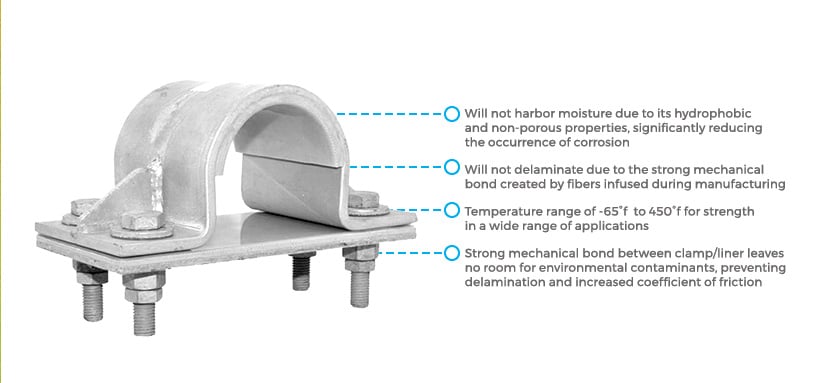 The VibraTek Hold Down Clamp and Liner are designed to take the pressure
The unique "sandwich" design (carbon steel base plate, VibraTek Liner, Bonded fiber-based FEP top layer) gives it a unique ability to withstand high-pressure clamp loads. A recent compression test applied 20,300 lbs. of pressure before testing was stopped—no contact was made between the base plate and pipe, and the pipe had not penetrated the VibraTek Liner.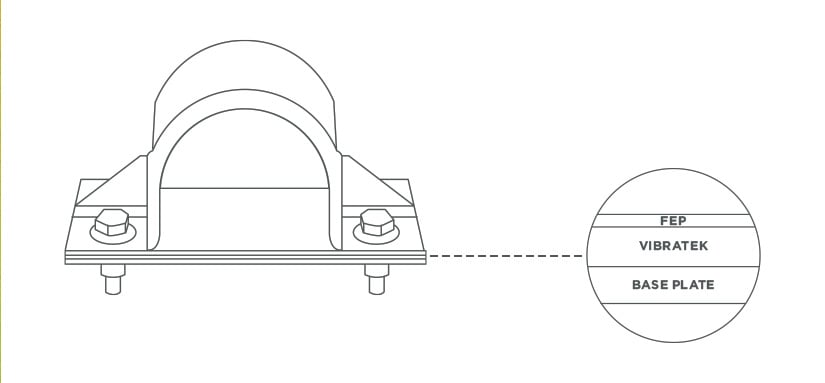 Innovation is about getting in front of problems, and about dealing with the problems at hand. We think the VibraTek Hold Down Clamp and Liner do both, heading off today's challenges (cold flow, moisture traps, liner delamination) and putting tomorrow's problems (piping system failure) in your rear-view mirror as well. that's where those problems belong—behind you. So you can look ahead to your next challenge—and your next win.