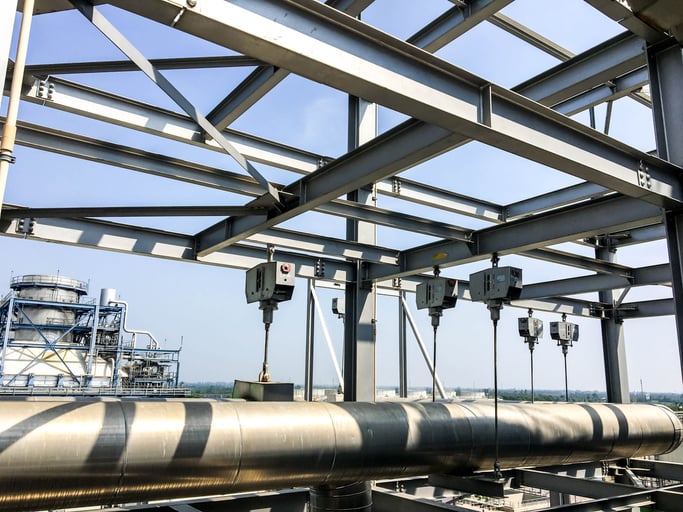 Wouldn't it be nice if all pipes ran neatly along a sturdy support? Unfortunately, that's not always the case. Sometimes, pipes need to run below beams or above an unreliable surface.
Whatever the case, these jobs call for a more creative solution. That might mean harnessing hanging pipes or suspending pipes. Luckily, there are ways to keep pipe systems strong even when gravity might not seem to be on your side. In this case, pipe hangers and supports can save the day.
Wondering what role pipe hangers and supports can play in your next project? Here's a guide to these gravity-defying tools and how to use them:
What's the Role of a Hanger?
Hangers are meant to secure piping by carrying the full weight load, or the deadweight, of piping. They suspend piping, make it possible to hang pipes from vertical spaces, and let you run pipes through more convenient spaces without exposing them to corrosive elements.
Although supports like plates or pipe shoes need to be able to withstand heavy weight, they usually spend their time sandwiched between pipes and an I-beam or other structure. However, as their names suggest, hangers tend to dangle from anchors, which means they need to hold the weight of the pipe and its contents while also accounting for gravity.
Advantages of Hangers
The main advantage of hangers is their ability to keep pipes organized and safe from destruction. They take the pressure off of pipes, while keeping pipes from swinging, swaying, or sagging. That way they can protect pipes from ruptures and from crashing into other objects.
Additionally, they provide creative options for isolating pipes. This could mean lifting pipes off of dissimilar metals or concrete and avoiding metal-on-metal corrosion. It also may mean lifting pipes up off of unreliable surfaces or out of corrosive environments where pooling water or bacteria might form.
So, what types of pipe hangers are out there and how do they work? We've laid out some important hangers and supports that could come in handy on your next project:
Pipe Attachments
Steel pipe clamps are a popular option for operations in oil, gas, and chemical industries. These tools allow you to suspend horizontal piping. They're made up of two curved pieces that fit around a pipe's diameter. They can usually be secured and adjusted via a bolt and nut on each end of the clasp.
A clevis is a linking tool that cradles piping. It consists of a thread-friendly hole through which you can attach a threaded rod to hang the clevis from a beam or support. The opposite end of the clevis can then hold pipes securely.
Both options can team up with threaded rods to hang pipes from beams. This adds structure and shifts the weight burdens from the pipe to the support. When pipes hang unsupported, the sagging portion faces both the pull of gravity and the weight of pooling pipe contents.
That's a recipe for ruptures.
These overhead supports keep liquids flowing smoothly through the pipe. At the same time, they isolate piping and keep metal from corroding.
Structural Attachments
Structural attachments are the anchors that play a key role in securing pipes to support structures. As you may have guessed by the name, structural attachments latch directly onto support beams or other structural components. They provide a secure anchor that you can pair with threaded rods and a clamp or clevis to harness pipes.
These are versatile devices that can be clamped, welded, or bolted to support structures.
Rods and Hanger Accessories
Rods and Hanger Accessories serve as go-betweens for hanging pipes. They connect the anchoring piece to the support that harnesses pipes.
Hanger rods are threaded metallic pieces that you can adjust to fit the right height and tension level of your system. These solid devices work as an adjustable bridge between your anchor point and your restraint.
Although the role of rods and attachments may seem simple, subtleties in these go-betweens can make a big difference in the field. For instance, turnbuckles allow you to adjust the tension and height between two rods or attachments. This means you can keep pipes from sagging or collapsing without disassembling your whole setup.
Additionally, if you need the ability for your support to not be directly perpendicular to the ground then you'll be looking at a forged steel clevis or weldless eye nut to provide you with critical adaptability that is needed in the real world.
Learn to Protect Your Piping Systems
When used the right way, pipe hangers and supports can lengthen the lifespan of your entire piping system. Looking for more ways to strengthen your pipes and keep them corrosion-free? Check out The Complete Guide to Pipe Restraints.