I was putting together a presentation for the team today, and I came across some amazing stats that really showed the struggle that buyers deal with nowadays, and this one has really been on my mind.
---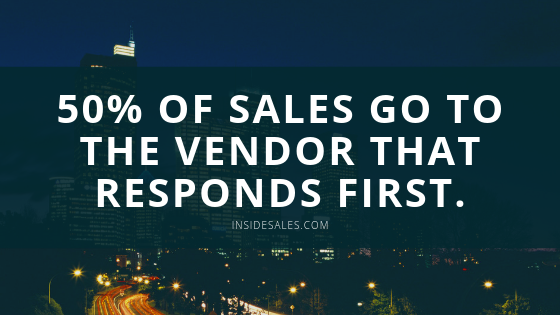 I've really been talking about this data point a lot lately with the team because it's so astonishing from the positive and the negative connotation. First, it clearly shows that B2B buyers suffer a tough fate when it comes to working with vendors. Buyers are competitive, goal oriented people who want to do right by their companies, but 50% of the time they're in a situation where their abilities and knowledge could be neutralized for lack of market competition. I know first hand the challenges of just trying to get get pricing and availability on something. Buyers today don't have the free time to deal with a slow bid response time.
There are other crazy facts out there that Harvard Business Review put out that make the story a bit more depressing, because the average response time of companies that respond within a month is 42 hours, and crazy enough 23% of companies never responded when a customer reached out.
I joke sometimes about standing there with my checkbook open waiting for someone to take your money, but that's what buyers are experiencing at times. The positive side of the spectrum also resonates, and I'm thankful there are companies out there that respond and hopefully respond quickly. That's our goal, and I use this to reinforce with my team that serving the customer is our #1 goal.
---
Industrial buyers, we are here for you. If you're looking for something to isolate, restrain, protect, or support your pipe, we've got your back, and we're working to make sure that we're fast and first so you can move on with your day!
---