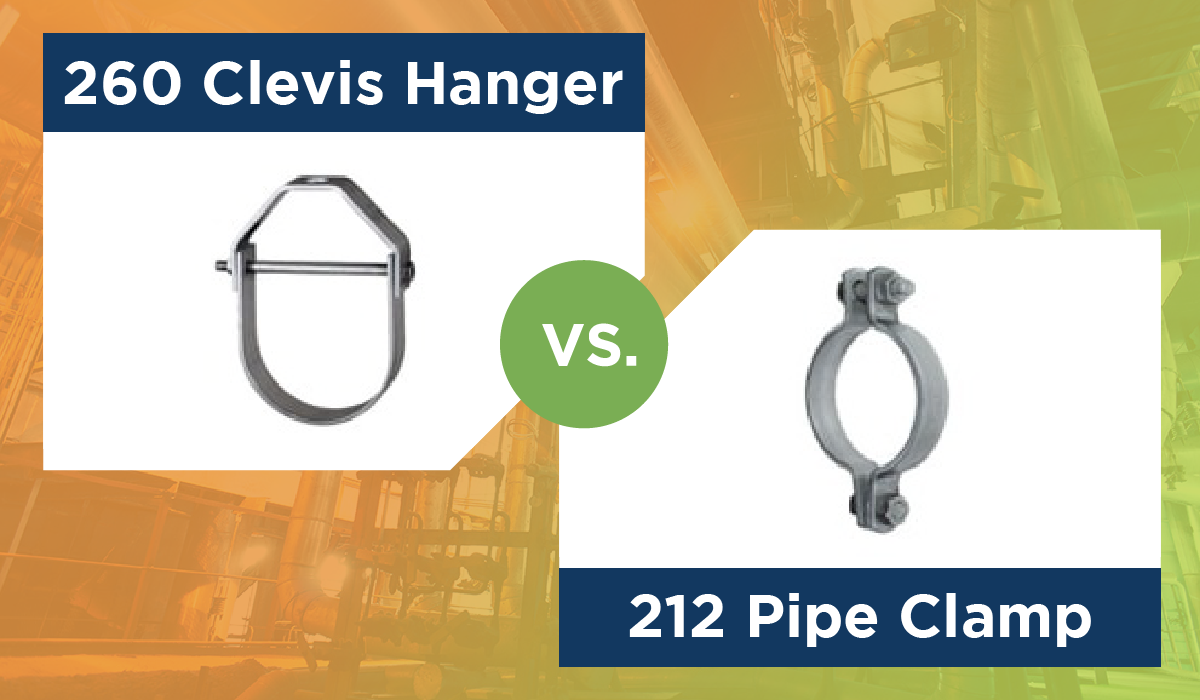 For the team at APP, comparing the uses and benefits of a fig. 212 pipe clamps and fig. 260 clevis hangers is an engaging topic. For others, the distinction may be a little vague, yet critical in certain circumstances.
Knowing when and whether to apply a 212 pipe clamp or 260 clevis hanger can save time and money.
How Are Clamps and Hangers Used?
Both 212 pipe clamps and 260 clevis hangers are used to secure various types of pipe or conduit systems to prevent movement that may cause breakage and damage. In industry, pipes convey essential liquids and gases in a wide range of viscosities and temperatures. The size and diameters of those conduit systems vary depending on the maximum flow volume required.
Industries like marine, cold/cryogenics, midstream, petrochemical, refining, and fire prevention, for example, need secure, safe, and reliable conduction of gases or liquids. The pipes channeling the material must be securely in place to eliminate breakage that can be extremely dangerous, particularly in potentially seismic conditions.
As a result, particular types of hardware are needed to ensure the pipes are adequately secured. The fixtures required to mount the pipe systems must accommodate a specified range of sizes, temperatures, and corrosion resistance.
Industrial designers identify the best locations for industrial systems and determine whether the applications should run horizontally, vertically, or both. These may be suspended from a ceiling or other overhead support, or they may be installed horizontally against a wall or other protected surface.
Pipes tend to be routed away from human or equipment work areas to avoid unintended contact.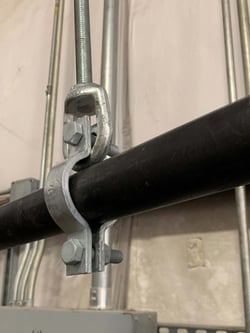 Where Is a 212 Pipe Clamp Best Used?
A 212 pipe clamp is capable of securing pipes in either a vertical or horizontal orientation. Perfect for channeling hot or cold pipes, 212 pipe clamps withstand temperatures up to 750°F.
These pipe clamps are available in sizes ranging from ½" to 30" in diameter and wrap around pipes securely with bolts at each end of the clamp. 212 pipe clamps are used in various designs with resting supports. They can be welded to both T-style or H-style designs, which allows bolting on of the pipe support as opposed to welding on the resting support.
Where Is a 260 Clevis Hanger Best Used?
In many industrial environments, the safest place to mount a pipe system is anywhere that a forklift cannot go, i.e., the ceiling. If you are going to "hang" something from the ceiling or an overhead beam, a hanger is most appropriate.
A 260 clevis hanger consists of a yoke secured to an overhead support and allows gravity to "cradle" the pipe securely within the loop. These are vertically adjustable and available in various sizes from ½" to 30-inches across.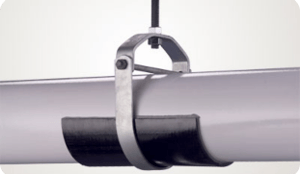 Clevis hangers secure suspended non-insulated stationary pipe. Because these allow some lateral movement and adjustment, 260 Clevis hangers are considered the top choice for cast iron, PVC, or ABS drainage pipes when some sloping is essential.
The hangers are made from carbon steel, stainless, or hot-dipped galvanized steel. They are capable of conducting gases or liquids to a maximum temperature of 650°F.
In Summary
| | | |
| --- | --- | --- |
| Hanger | Fig 212 | Fig 260 |
| Supported NPS Sizes | 1/2"-30" | 1/2"-30" |
| Metal Available | Carbon Steel | Carbon Steel |
| Coatings Available | Hot Dipped Galvanizing | Hot Dipped Galvanizing, Zinc Plated, Epoxy Coated |
| Available in Plastic | No | Yes |
| Available with liners | No | Yes |
| Maximum Temperature °F (Steel / HDG) | 750 | 650 |
| Vertical Adjustment | None | 3/8" through 5 1/8" |
| Max Load - All sizes | 500 to 3,500 | 610 to 6,000 |
| Max Load 2" Pipe | 1,040 | 730 |
| Max Load 24" Pipe | 3,500 | 4,800 |
| Federal Specification A-A-1192A | Type 1 | Type 4 |
| WW-H-171-E | Type 1 | Type 4 |
| ANSI/MSS SP-69 and MSS SP-58 | Type 1 | Type 4 |
| UL and ULC listings | (Sizes 3/4" - 8") | (Sizes 3/4" - 8") |
Check with APP for More Information
APP Manufacturing carries the entire range of pipe support products that include clamps, hangers, wear pads, pipe shoes, straps, U-bolts, and more, each designed for specific situations. Our team of down-to-earth professionals can help you understand what you need and get you on your way quickly and easily. Contact APP or call 888-408-9872 or 713-956-2922.