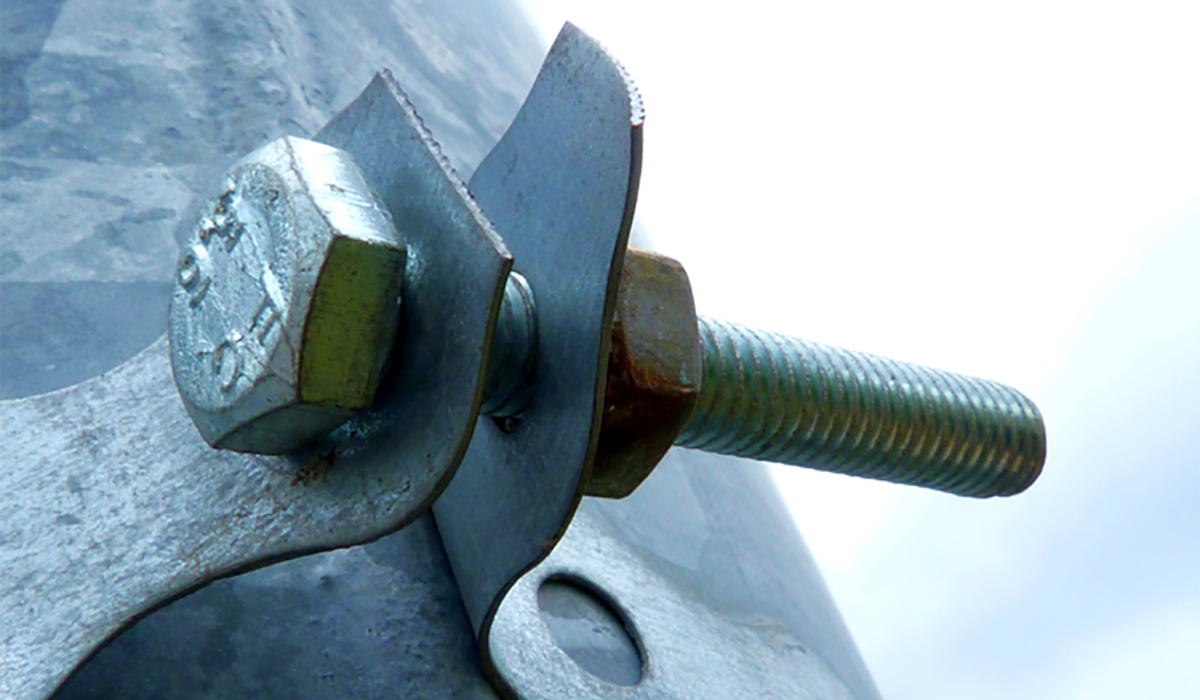 Wouldn't it be nice if your pipes always fit into neat, uninterrupted runs? Unfortunately, it doesn't usually work that way. in reality, you'll often need to add space between pipes and walls, lift pipes off of corrosive structures, or hang them from overhead.
When you need to maneuver pipes and keep them safe, pipe clamps save the day. However, as invaluable as these pipe supports are, they aren't well known. In this article, we dig into the best uses for pipe clamps and unveil how you can use these versatile supports to make your next project a breeze.
What Is a Pipe Clamp?
A pipe clamp is a metal pipe support that fits around a pipe. Pipe clamps consist of two separate half-circle shackles that wrap around your pipe. By tightening bolts, you can bind the two pieces together, snug up the pipe clamp, and secure piping.
How Does a Pipe Clamp work?
Essentially, pipe clamps wrap around pipes and keep them stable. For one, they stop pipes from smashing into other hard surfaces. They also help you lay out pipes in a way that's safer and more productive. For instance, in oil and gas, cryogenic pipe systems, petrochemical plants, and other industries, it is important to prevent fires and keep pipes away from heavy traffic. Pipe clamps let you do it.
At the same time, you can't just lay piping on any available surface. When pipes are exposed to corrosive microbes or liquids, they can eat through pipe surfaces and cause massive damage. Resting bare pipes on hard surfaces can also wear down metal and lead to ruptures. Instead, pipe clamps let you avoid pipe damage and arrange pipes in a safer, more cost-effective way.
What Can You Do with Pipe Clamps?
Pipe clamps support pipes that run vertically or horizontally or hang from overhead. All the while, they protect pipes from corrosion and keep piping strong. When it comes to installing pipe clamps, you have a few different options:
Welding: You can weld pipe clamps directly to a resting support. This will create an H-style or T-style shoe. From there, your pipe is bolted in and lifted off of your support base.


Bolting: By bolting your pipe clamp around pipes, you can hang pipes from ceilings, add space between pipes and walls, or lift pipes off horizontal surfaces.
What Are the Advantages of Pipe Clamps?
Pipe clamps can keep your pipes safe and your whole system running smoothly. Here are a few ways they boost performance:
Elevate Pipes
By welding a pipe clamp to a pipe shoe, you can elevate pipes and keep them off corrosive surfaces. This protects against dangerous microbes. It also keeps metal from scraping against harsh surfaces and wearing down.
Hang Pipes
Beyond just lifting pipes off of surfaces, pipe clamps also let you hang pipes from ceilings or suspended beams. By pairing pipe clamps with a threaded rod and a clevis, you can secure piping from overhead structures. That way, you can safely add pipe runs to spaces that are out of harm's way.
Protect Pipes from Elements
You never know when there might be a disaster waiting to happen, such as an earthquake or another, less predictable event. Chances are, your pipes are carrying hazardous liquids. Unexpected shakes or vibrations can rupture pipes or cause leaks.
Pipe clamps secure your pipes in unstable environments. They reduce vibrations and keep pipes from moving, wobbling, or crashing into surrounding objects.
How to Install Pipe Clamps
As handy as pipe clamps are, it's important to install them with care to avoid broken pipes, leaks, or support failures. Here are a few quick things to keep in mind when you're installing your pipe clamps:
Pay attention to the materials you use. If you pair up dissimilar metals, it can set off a destructive electrochemical reaction called galvanic corrosion. That's why it's a good idea to use galvanized piping if your pipe clamps don't include a protective lining. You can also protect against corrosion by using pipe clamps that are galvanized or made of stainless steel.
You can also reduce corrosion and metal-on-metal friction damage by lining your pipe clamps with nonmetallic protection. For instance, APP can line clamps with a wide variety of liners—including Vibratek, neoprene, and Fabreeka®—at your request. These liners dampen vibrations, prevent metal-to-metal contact, and can save you money in the long run.
Be careful with spacing. If your pipes are sagging or wobbling, you may want to re-examine installation. Before installing any pipe supports, consult your manufacturer's product sheet and follow instructions carefully.
Take time to tighten bolts. If your pipe clamps come apart, heavy pipes can come crashing down with them. When installing pipe clamps, make sure bolts aren't too loose or so tight they're being stripped.
Find the Perfect Pipe Restraint for Your Piping System
Different pipe restraints have unique advantages, disadvantages, and uses. And the right pipe restraint will bring out the best in your piping system—saving you money in the long run.
Want to find the perfect pipe restraint for your piping system? Read our Complete Guide to Pipe Restraints for an inside look at the best pipe supports out there.