Your piping system is carrying heavy loads, under tremendous pressure, and constantly being pulled in multiple directions at once. If you want to stabilize your pipe system, anchor horizontal piping, and fortify your pipes, there are heavy-duty pipe supports built to do the trick: pipe stanchions.
Pipe stanchions are the ultimate pipe support anchors. These supports root your industrial piping system in a solid base, lift pressure off of pipes, and help you prevent pipe failures.
Wondering how these pipe supports work?
We've laid out the ins and outs of pipe stanchions along with how they can boost the strength of your pipe system.
What is a pipe stanchion?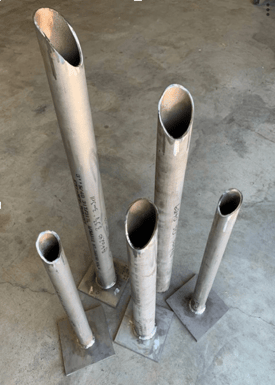 A pipe stanchion is a rigid pipe support that prevents movement in industrial piping systems in any direction—upward, downward, or sideways—without allowing any rotation in the system. Pipe stanchions provide the highest level of rigid anchorage. As your piping system is pushed and pulled by directional and interior forces, these pipe supports hold your piping firmly in place.
Curious why your piping system needs extra support?
Industrial piping systems need to handle heavy weight, punishing pressure, and unpredictable external forces all at once. Negative forces can slam into your piping system from every direction, so proper anchorage is vital.
Worse yet, these forces can cause your piping system to break down. In industrial piping systems, failure can be extremely dangerous and expensive. Pipe stanchions anchor your piping in a solid foundation, adding more stability and strength in the face of destructive forces.


What should you consider when installing horizontal piping support?
If you want to protect your piping system and successfully install horizontal piping supports, there are a few additional, but critical, considerations to keep in mind. As you're installing pipe stanchions, don't overlook these two important factors:
Maximum weight: You can calculate the maximum weight of a working piping system by finding the sum of the weight of the pipes, pipe accessories, materials that flow through the pipes, and insulation material used to maintain temperatures.
External forces: It's important to also consider forces outside of weight and gravity. Some of these include potential seismic action, wind forces for exterior piping, internal pressure surges, and expansion or contraction due to temperature fluctuations.


What materials are pipe stanchions made of?
Pipe stanchions are typically made from plain carbon steel or hot-dipped galvanized steel to provide the required strength and durability. Depending on the weights and projected forces involved, applications, and other dynamics, some pipe systems designers may choose to use aluminum, structural steel, ductile iron, or various composites to form the pipe stanchions.
How do pipe stanchions secure piping systems?
Pipe system designers usually placed pipe stanchions beneath piping. Those stanchions are securely attached to steel or concrete by welding or bolting at the base. When they're attaching pipe stanchions to a concrete surface, pipe systems designers often add an additional level of security with anchor bolts. You can also equip the stanchion with a base plate if you want to enhance the stability of your system.
Beyond serving as broad system anchors, pipe systems designers can also use stanchions to support piping systems in additional ways. Here are a few ways to use stanchions to strengthen piping:
Use a flat top stanchion to support an adjustable threaded saddle support system. This lets you raise or lower the pipe support to fit your needs.


Provide a cradle at the curved top of the stanchion to support horizontal piping.


Provide elbow support that holds piping from the side in a non-vertical alignment.


Use a flat-topped stanchion to reinforce a pipe saddle support for horizontal piping support.


Want to learn more about pipe restraints?
For industrial use, stanchions are an essential support element of most piping systems. While other supports, such as dummy legs and trunnions, provide complementary support and are essential, stanchions hold the most heavy-duty element of the pipeline stationary in the face of continual and recurring forces.
Want to uncover more ways to stabilize your piping system and drive long-term piping performance higher? Read The Complete Guide to Pipe Restraints for an in-depth look at the most critical pipe supports out there.