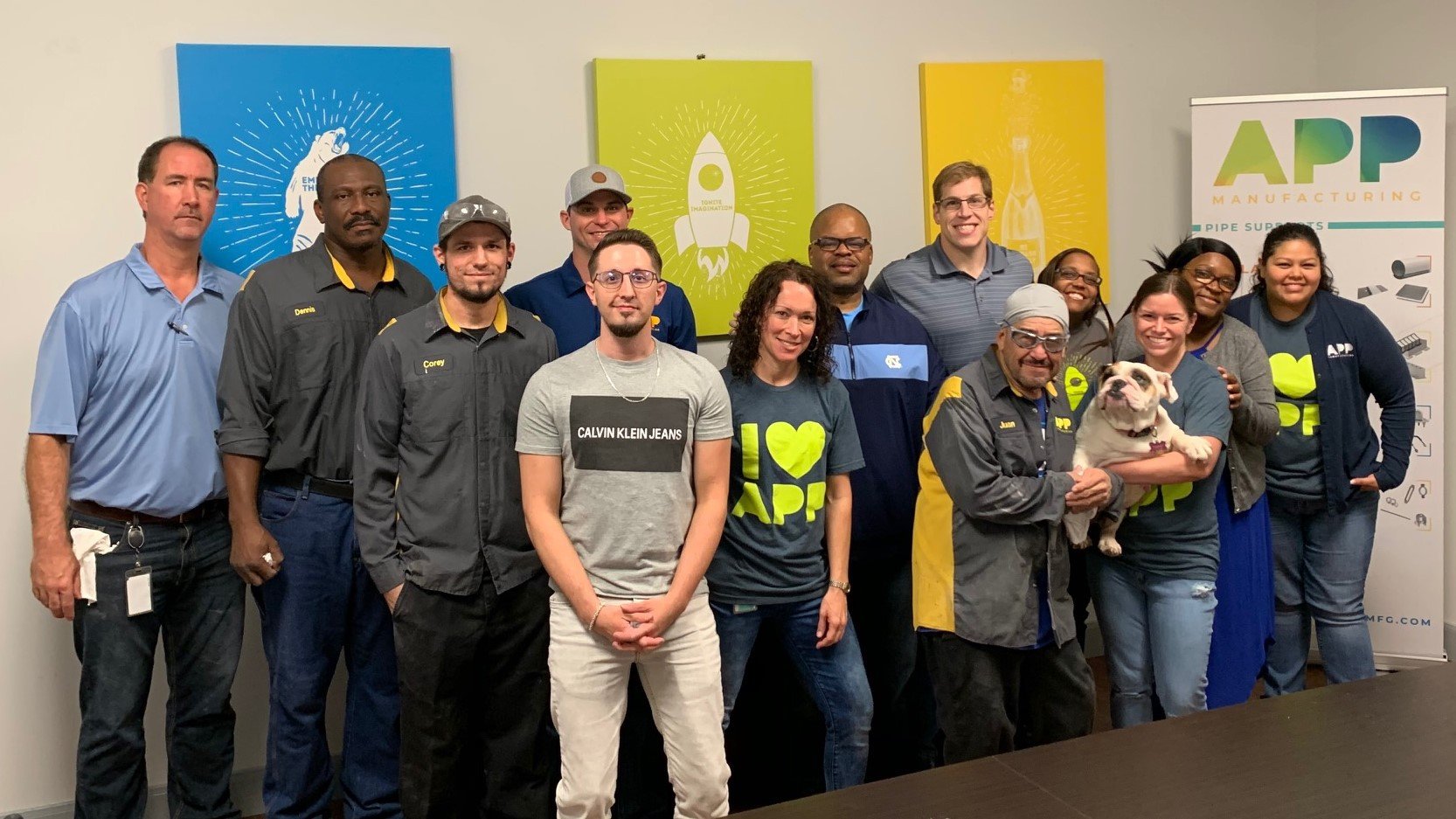 For the past 28 years at APP, we've designed, manufactured, and sold advanced pipe supports. We've worked hard to deliver the industry's best-quality piping products, and I think we've accomplished that goal.
But these days, we have something more important on our mind: the everyday worker. After all, what good are the products we take so much care to produce if they aren't making a difference in your life? That's why our goal is to help people like you understand how to use cutting-edge products effectively and confidently improve their process systems.
Wondering what APP is all about? Read on for the history of our pipe support business, and how we're trying to use innovation to make your job easier.
Making Pipe Supports as Easy as They Were Meant to Be
The manufacturing and piping world is full of hard work and complicated systems. That's why, early on, we realized we wanted to make pipe supports easy for everyday people. For us, a big part of that is simply knowing there's someone out there who will help out. Above everything else, APP wants to help make your job easier, whether you buy directly from us or not.
Wondering how we plan to make your life easier?
We focus on faster quotes, more reliable products, and lasting relationships. It's something that's been largely lost in the manufacturing world. However, we prioritize doing things right the first time. That means hitting delivery dates and creating relationships with everyone we meet. We want to make pipe supports simple, whether you decide to have a business relationship with us or take your business elsewhere.
Quality Pipe Supports
What kind of partners would we be if we didn't have our customers' best interests in mind? That means we're happy to work with you to build the right solutions you need. For us, it's all about providing solutions through pipe supports. Whether you know exactly what you need, or you could use some help finding the right solution for your needs, we're here for you.
From wear pads to pipe shoes to u-bolts, APP offers a wide range of composite and metallic products. Why should you consider composite pipe supports over metallic pipe supports? As an innovator within the piping industry, APP has created composite technologies (ProTek and CryoTek) that extend the life of your pipe system by:
Withstanding extremely hot and extremely cold conditions
Reducing corrosion
Eliminate metal-on-metal contact
Limiting surface abrasion
While metallic pipe supports are widely used, composite products are more dynamic and effective. Reach out to APP experts to discuss the benefits of composite over metallic for any of these APP product offerings.
Isolators
Isolators are vigilant pipe defenders. When piping systems are uninsulated, they face a range of elements that can break down materials. When metal rubs against other metal without protection, it can lead to friction damage and galvanic corrosion. Reduce pipe damage with these products:
can be a cost-effective way to insulate pipes and boost the lifespan of your system.
Shoes
Chances are that if you need to elevate piping and add protection, you'll want a pipe shoe. We sell a broad range of pipe supports, from your traditional T-style supports, to more advanced composite options and everything in between. As an advanced alternative to our traditional metallic options, our composite pipe shoes are a lightweight, yet extremely durable way to reinforce piping. At the same time, they insulate pipes, eliminate metal-to-metal corrosion, and cut out the need for welding.
Restraints
Controlling your pipe movement can be the single most important thing you do to extend the life of your process system. However, we try to take a nuanced approach to pipe restraints. We know that sometimes you'll need to prohibit pipe movement, but other times it's best to avoid problems such as point loading through controlled movement. Our restraints range from U-bolts and straps to heavy-duty hold-down clamps. Of course, we can also customize your restraints and fit them with a material that works best for your system.
Hangers
Hangers and hanger hardware can help you suspend piping and keep it out of harm's way. Like our other products, our hangers are made to save you costs in the long run. That's why most of our threads, rods, nuts, and attachments are hot-dip galvanized carbon steel. And if you have custom needs for your project, we offer other finishes and materials upon request.
Accessories
On the job, we're constantly reminded that the devil is in the details. That's why, like our pipe supports, our accessories focus on quality. That means epoxy built for heavy-duty applications, stainless steel bands, and whatever else we think will help you improve your system. Our end goal: making installation easy now with products that will outperform others down the road.
APP's History
As you may have noticed, APP's product line is designed with one goal in mind: to save you money and headaches in the long run, and this is no accident. When my father started APP in 1991, after years in the oil and gas industry, he set out to tackle the massive problem of corrosion.
Today, we continue to focus on quality in the solutions we provide, and over the years have added manufacturing and technology offerings to better serve our customers. We're in the business of building relationships, finding new ways to lengthen the lifespan of your whole system, and saving you time and money down the road.
More importantly, we're here for you. At APP, we work to be more than an excellent pipe support manufacturer; we want to be a trusted and reliable partner for you and your team.
We're Here to Support You
We want to make your job easier. Have a question about an upcoming project? Send us a note here for answers or to get a fast quote.