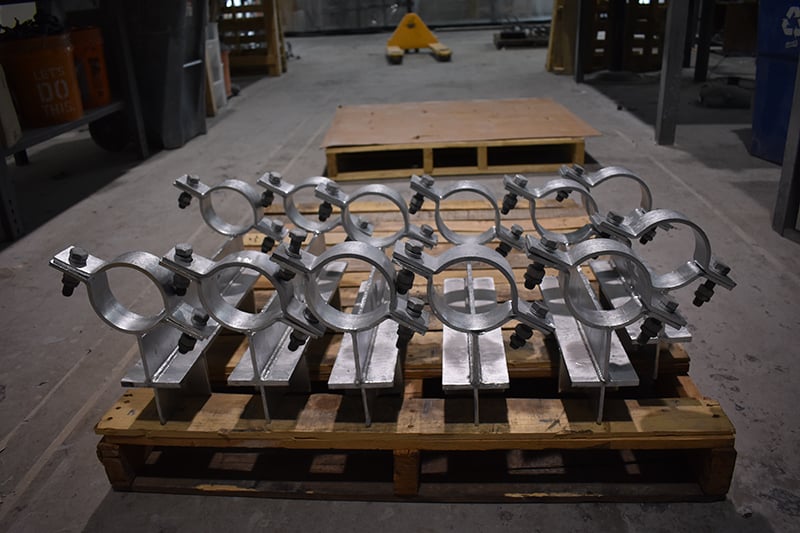 If you work with a process piping system, you undoubtedly understand how heavy piping, high pressure, and harsh conditions lead to a need for support. You don't want pipes resting directly on beams or gritty surfaces. That could turn into ruptures, corrosion, and worn-down piping.
This is where pipe shoes come in. Wondering what a pipe shoe is and how to pick out the right shoe for your system? You've come to the right place. Here's a guide to pipe shoes and their uses.
What to Consider with Pipe Supports
As we discussed in previous blogs about pipe supports, there are two main factors to consider when selecting a support system: load and conditions.
Load includes weight (of both the contents and the piping system), expansion or movement (taking into account thermal forces or stresses), and thrust loads (anticipated flow changes).
Conditions refer to the environment, which can mean anything from humidity to earthquakes, as well as contents that come into contact with piping and support materials.
We have also mentioned the three types of pipe support systems that meet the needs presented by common load/condition combinations:

Rigid Support Systems: These limit movement and provide a rest and guidance for pipes
Variable or Spring Systems: These use a compression spring to accommodate conditions such as thermal expansion
Snubber or Shock Absorber Supports: These absorb energy shocks from earthquakes or pressure changes to prevent pipe displacement
Of these three categories, pipe shoes fall into the rigid support systems category. Here's more about how pipe shoes work:
What Is the Role of a Pipe Shoe?
Pipe shoes are a type of pipe support that elevates piping and insulates pipes from beams or other surfaces. They protect process systems in several ways: First, they can stop pipes from rubbing against dissimilar metals. That means they're able to prevent electrochemical transfer and galvanic corrosion.
Additionally, as pipes move, pipe shoes keep insulation from grinding against objects or rupturing. In the same way, they should minimize the movement and wear that comes with heat transfer. A quality pipe shoe will stop thermal expansion, which causes movement, high friction points, and damage. They do this by separating piping from metal structures that encourage heat transfer and ice formation.
Metallic Pipe Shoes
Traditional pipe shoes are generally made from structural metal shapes, such as channel beams and I-beams. For a long time, the benefits of these shoes have been their ease of access to material and broad array of suppliers that can make them, as well as low cost and low complexity of installation and production. Many of these shoes are welded directly to the pipe in a pipe fabrication shop or in the field using available welders with known standards in the industry, like MSS SP-58.
Other metallic shoe options include two cradles and U-bolts or two clamps to hold the pipe in place. One advantage of these metallic shoes is their versatility. These shoes can be lined with our ProTek Composite Wear Pads or another liner of your choice to prevent metal-to-metal contact.
Composite Pipe Shoes
APP also offers modern composite pipe shoes that provide new solutions to challenges that surface when using traditional metallic pipe shoes.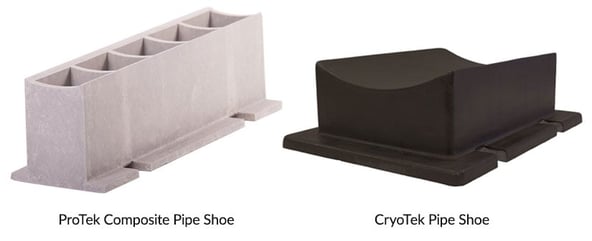 ProTek Composite Pipe Shoe
APP's ProTek composite pipe shoe is a UV-resistant, non-metallic solution for elevated or insulated piping systems at the support points. It has 150,000 pounds of compressive strength, a temperature range of -320 to +400 degrees Fahrenheit, and is resistant to chemical attack. It provides optimal support for insulated or elevated piping systems in plants or refineries, both onshore and off.
They're designed to fit snugly against piping. Their outer diameter is crafted to fit the pipe diameter precisely. Wondering what the advantage of hugging the pipe might be? With a precise fit, the shoe is able to seal off vapors and keep corrosive materials from settling on pipes.
3-D Animation of APP's ProTek Composite Pipe Shoe
CryoTek Pipe Shoe
As much as we love the ProTek for certain applications, we developed the CryoTek pipe shoe to handle the more complex situations our customers bring to us. It's a cutting-edge, non-metallic pipe shoe with unparalleled, reliable performance in temperatures between -320 and +400 degrees Fahrenheit. This product is ideal for cryogenic piping systems that involve gas liquefaction, LNG terminals, carriers, and ethylene plants. We also like to brag that it has a maximum compressive strength of 27,500 pounds per square inch.
CryoTek shoes are a robust option that can handle a bit more of an axial load than ProTek shoes. They include well-defined insulation that protects piping. Their design also makes them a sturdy option as a stop or anchor. Despite their robust design, these supports are easy to transport.
3-D Animation of APP's CryoTek Pipe Shoe
If the Shoe Fits ...
APP's full line of highly engineered pipe support components prolong the life of piping and connected equipment while reducing energy consumption, noise, and costs. When your pipes last longer, your business flows smoothly.
Need pipe shoes for your next job? We want to help. Contact us here for a fast quote.