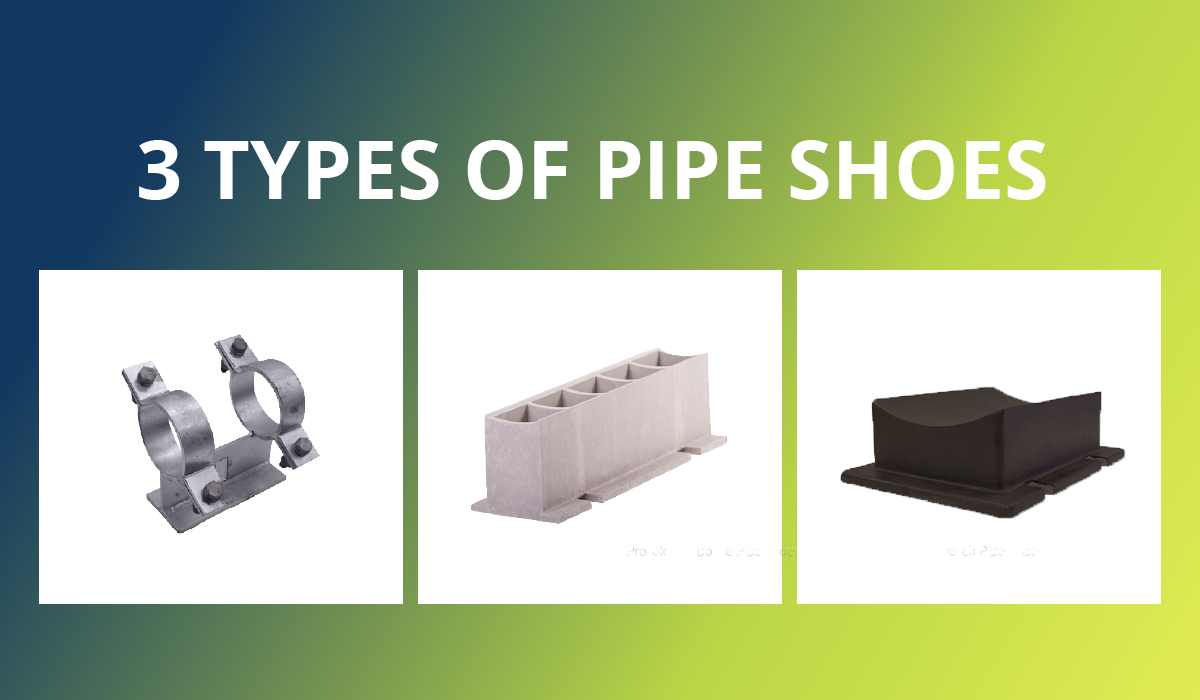 Want to protect your pipes—and money—in the long run? Don't overlook the power of pipe shoes. Pipe shoes are a must-have if you want to elevate and support piping.
However, pipe shoes are not a one-size-fits-all solution. Even if you're already planning on adding pipe shoes to your piping system, you need to determine what pipe shoe is the perfect match for your system.
We're here to help. We've picked out the three main types of pipe shoes, so you can identify which product will best strengthen your piping system.
What Is a Pipe Shoe?
A pipe shoe is a rigid pipe support that elevates pipes and provides additional stability to pipe runs. Just like an athletic shoe protects a runner's foot, pipe shoes create a physical cushion between the pipe and harsh surfaces. They harness the pipe, absorb vibrations, and lift pipes off I-beams or other base structures.
Why Use Pipe Shoes?
Wondering how pipe shoes impact your pipes and your wallet? There are a few key things pipe shoes do to strengthen your pipes and save you long-term costs:
Elevate pipes: By lifting pipes off of grimy or corrosive surfaces, you can keep corrosive cells from forming and disintegrating metal.


Add support: Pipe shoes add support and stability to pipes that may otherwise wobble or crash into surrounding objects. They cradle pipes and keep heavy pipe runs from digging into beams.



Fight corrosion:

When the metal of pipes rubs against surrounding metals, it can jump-start galvanic corrosion. This electrochemical reaction can quickly spread throughout a pipe's surface. Pipe shoes separate dissimilar metals and stop corrosion before it starts.


Reduce friction damage: When rigid pipe surfaces scrape against the metal of I-beams or other surfaces, it can dig into pipes and lead to ruptures. Pipe shoes add a protective barrier between pipe metal and the hard surfaces around it.
Metal Pipe Shoes vs. Composite Pipe Shoes: What's the Difference?
Before jumping into the three main types of pipe shoes, it is important to note that these supports fall into two broad categories: metallic and composite shoes.
Metallic pipe shoes can be made up of various types of metal, including carbon steel, stainless steel, and galvanized carbon steel. Composite shoes consist of nonmetallic but extremely durable materials, such as fiber-reinforced polymer (FRP).
When to Use Metallic Shoes
Chances are, if you've worked in the piping industry long, you're familiar with metallic pipe shoes. Metallic pipe shoes come in all shapes and forms. In the past, pros would cobble together makeshift metallic shoes out of spare beams or leftover on-site materials. However, this piecemeal solution can lead to long-term damage, including metal-on-metal friction damage and galvanic corrosion.
However, more advanced metallic pipe shoes can add strength to your system while protecting against long-term damage. For instance, T-style shoes or pre-insulated shoes can be fashioned with linings that protect the surface of pipes. These buffers stop metal-to-metal wear, keep metal from corroding, and add strength to pipes, all at the same time.
When to Use Composite Shoes
Composite shoes are noncorrosive, so you don't have to worry about galvanic corrosion or other metal-to-metal concerns. They add insulation to pipes and are nonconductive. That means they stop heat from escaping pipes, which both conserves energy and reduces movement. They also tend to be lightweight and easy to install.
3 Types of Pipe Shoes for Better Piping Performance
Wondering what types of pipe shoes are made to fight corrosion and increase your piping system's capabilities? Here are the three main types of pipe shoes that do just that.
1. ProTek Pipe Shoes
ProTek Pipe Shoes are ultra-durable composite shoes that are popular in industries where pipes are exposed to corrosive elements. These are especially useful for pipe systems that operate in refineries, plants, and both onshore and offshore rigs.
Why?
In addition to being lightweight and easy to install, ProTek Pipe Shoes are chemical resistant and shrug off ultraviolet rays. They're also designed to help keep energy flowing inside pipes. Because they include airtight chambers, these pipe supports stop energy from jumping out of pipes and into surrounding surfaces.
Not only do ProTek Shoes fight off corrosion in the elements, but they can also dramatically improve a pipe system's performance. For instance, by providing ProTek Pipe Shoes and pairing blocks, APP was able to lift the Kuraray EVAL Expansion project's capacity by 17,000 tons. Overall, this addition increased the ethylene vinyl-alcohol copolymer production plant's capacity from a total 35,000 tons to 47,000 tons.
2. CryoTek Pipe Shoes
CryoTek Pipe Shoes elevate pipes and increase pipe performance in frigid temperatures. They're made to protect pipes that face extreme cold, such as those in cryogenic systems, LNG facilities, and ethylene plants. Here are some significant advantages of CryoTek Pipe Shoes:
Anti-corrosion: Their composite makeup is noncorrosive and protects against metal-on-metal corrosion.


Anti-ice formation: Because they are nonmetallic and include foam-insulated chambers, CryoTek Pipe Shoes prevent heat from rushing out of pipes and causing destructive ice formation.


Light weight: Despite being durable, CryoTek Pipe Shoes are lightweight and don't require heavy equipment to install.


Thermal movement protection: When pipe temperatures change, pipes can shift, expand, and move. CryoTek Pipe Shoes reduce thermal expansion and keep moving pipes from scraping against destructive surfaces.
Wondering how CryoTek Pipe Shoes look in action?
When the Gulf Pascagoula LNG project became the first LNG project in the U.S. to use cold composite shoes, CryoTek Pipe Shoes contributed to a savings of more than $1 million. APP delivered 2,000 pipe supports, including CryoTek Pipe Shoes, over the course of the project. These lightweight shoes saved the team six months on installation timelines. They were also able to add long-lasting supports, crafted for the cold, without needing heavy lift equipment.
3. T-Style Shoes
Metallic shoes can come in all shapes and sizes. However, not all metallic shoes are created to enhance your pipe system's long-term performance. This is where T-style shoes go above and beyond traditional metallic shoes. APP's T-style shoes are metallic shoes that are versatile and built for strength.
These pipe supports are forged from A36 carbon structural steel, which can be customized to fit your system's unique needs. Versatility is a major advantage when it comes to T-style shoes. Here are a few different forms T-style shoes come in:
Weld-on: You can weld T-style shoes directly to your structural beam. This adds stability while allowing you to lift pipes off of metallic surfaces.


Clamp-on: You can also fit T-style shoes with clamps. These closable straps fit around your pipe and keep it secure. They can also be lined with vibration-reducing materials that protect against friction damage.


U-bolt-on: You can also secure pipes to your shoe via adjustable bolts. This is an advantage if you want access to pipe surfaces, especially if you're concerned about corrosion under insulation or want to adjust pipe layouts.
Find the Perfect Pipe Shoe for Your Piping System
Want to find the best pipe shoe to boost pipe performance and boost the long-term value of your piping system? Start by understanding what pipe shoes are out there. Read our Complete Guide to Pipe Shoes for an in-depth look at pipe shoes and how they affect your system.