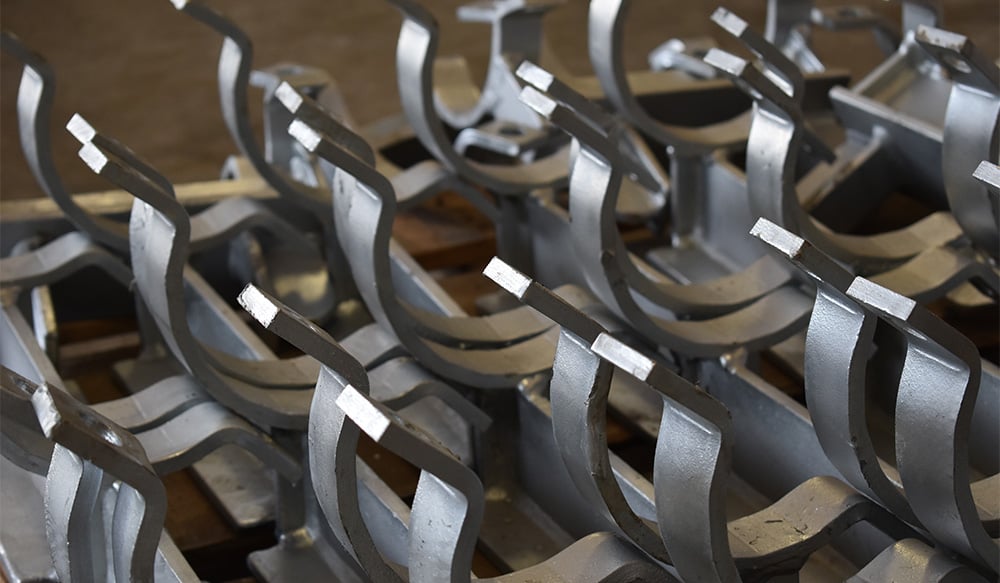 Let's face it: T-style shoes aren't known as the most flashy pipe shoes. In fact, they've been a staple for so long that most manufacturers don't know whether to call them "T-style shoes," "T-styles," "T-slides," or something else.
What's undeniable is that these pipe supports can be some of the most cost-effective and versatile shoes available. And there are even more dynamic features that come with these seemingly simple pipe supports.
Want to see how manufacturers have souped up these traditional products? Here's a deeper look at T-style pipe shoes and the five coolest features you may have never heard of.
What Is a T-Style Pipe Shoe?
Essentially, T-style shoes are pipe shoes that form a "T" shape. That means the "T" top will lie flat on a support structure, and the bottom of the "T" shape will elevate a pipe.
With that definition in mind, there are tons of pipe shoes that can be called "T-style shoes." In the past, such shoes were formed out of cost-effective materials that were on hand, such as channel beams or I-beams. Traditionally, this made them the low-cost, highly diverse option.
However, there is also a class of more advanced T-style pipe shoes out there. These shoes include high-quality materials and features such as cradles, clamps, or other pipe guides. Here are some advantages of these advanced T-style shoes you may not have known about:
1. They Come in Advanced Styles
"T-style" may describe the overall shape of the pipe shoes, but their name really doesn't do much justice to their capabilities. Manufacturers are adding to their design and bringing out unique advantages for pipe performance. Here are a few T-style variations:
Banded slots: Worried about welding? You can use T-style shoes with banded slots to secure pipes without unwanted welding or heat transfer.
Gussets: These reinforcement plates add a layer of support. They make it possible for the shoe to carry an extra amount of weight and strengthen the shoe's overall structure.
Clamps: By adding clamps to your shoe, you can isolate the pipe. These features wrap around your pipe and lift it off the beam or support. Clamps also make it possible to add linings or insulation to prevent metal-on-metal contact.
The bottom line? You have options. Because T-style shoes are customizable, they make it easy to pick features that suit your piping system best.
2. They Come in Finishes of All Kinds
Because T-style shoes are made up of a variety of materials, they can easily be paired with a variety of finishes. What's the advantage here? Here are a few:
Protect against metal-to-metal corrosion: Finishes such as hot-dip galvanizing add an outside buffer between dissimilar metals, which can reduce the galvanic corrosion that destroys metals.
Stop natural corroders: Corrosion can start by creeping into weak spots or small holes on the surface of metal. Protective coatings make it tough for corrosive materials to set into the metal and cause damage.
Add chemical resistance: Refineries and other systems carrying corrosive chemicals are especially susceptible to corrosion. You can add coatings to T-style shoes that help them shrug off chemicals.
3. They're Easily Paired with Liners
There's a common concern anyone installing T-style pipe shoes should keep in mind: metal-on-metal contact. And this brings up another cool quality of T-style shoes that's not as well known. They can be paired with liners. For instance, in many cases, if your T-style shoes feature clamps, you can fit them with wear pads.
Wear pads add insolation so the metal of your pipe isn't scraping against the metal of the clamps. This insulation also reduces corrosion and wearing by lowering the coefficient of friction.
4. They're Highly Customizable
By nature, T-style shoes are better suited for customization than other products. That means as long as you have a manufacturer that's tuned into your needs, it shouldn't be difficult to fit them specifically to your piping system.
For instance, if you want to avoid welding, it's possible to fit the base of T-styles with slide plates. This combo stops metal-on-metal corrosion and reduces the danger of point loading.
5. They're Often Locally Sourced
Again, this feature will depend on your manufacturer, but several providers can manufacture T-styles in the USA. Wondering what the advantages of American-made products are? Here are some:
It's what Americans tend to prefer: According to an Associated Press-GFK poll, nearly 75 percent of Americans say they prefer purchasing American-made goods.
You get quality you can trust: Local production means you have more peace of mind. From the start, you have more assurance that the products will meet common quality and labor standards.
Production is faster and more dependable: Products usually get to you faster when they don't need to clear customs or take long international trips. This is especially handy if you have to make changes or quick customizations.
As a whole, because they're made of such accessible materials, there's a good chance that you can find a locally sourced manufacturer for these pipe supports.
Find the Right Pipe Shoe for Your Piping System
T-style shoes have plenty of top-notch features to increase the performance of your piping system. But they're far from your only option when it comes to elevating and protecting pipes.
Want a full look at the pipe shoes that are out there? Read our Complete Guide to Pipe Shoes.