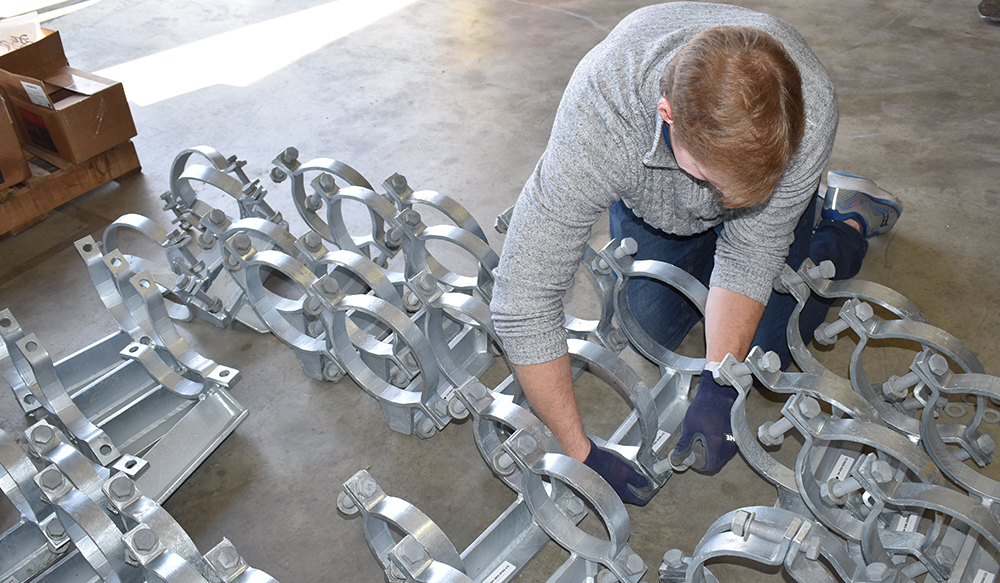 What would happen if a professional baseball player stepped out onto the diamond in bowling shoes? Worse yet, what if a powerlifter strapped on cleats before hoisting up hundreds of pounds?
In either case, the athlete's performance would suffer. And it's worth thinking about the relationship between pipe shoes and your piping system's performance the same way.
Just like athletes need the right shoes to support them, your pipes need pipe shoes that fit. The right supports will be an investment in your system's performance. Here's a better way to think about pipe shoes:
How Pipe Shoes Protect Your Pipes
To understand which pipe shoes are best for your system, it's best to start by looking at what pipe shoes should be doing. Here's how pipe shoes strengthen your system:
They stop corrosion
They stabilize pipes and dampen vibrations
They eliminate metal-on-metal damage
They insulate and elevate pipes
It's worth keeping these general functions in mind as you shop for the perfect pipe shoe.
What Types of Pipe Shoes Are Out There?
There's a wide range of pipe shoe styles, but to keep things simple, we can split them into two broad categories: metal shoes and composite shoes.
Each material has advantages and disadvantages. But the support you select should depend on your piping system and the elements it's up against. Here are some common types of pipe shoes and their uses:
Types of Metal Pipe Shoes
T-Style Shoes
T-style shoes, or T-slides, tend to be the simplest and most inexpensive pipe shoes. They're a top option if you have a low-impact system or need a quick, custom option. They're highly customizable because they're made up of materials that are readily available, such as structural beams.
However, if you're welding these shoes directly to the pipe, practice caution. Be sure to use a welder with known standards in the industry, like MSS SP-58. Careless welds can lead to weak spots and corrosion.
Heavy Duty T-Style Pipe Shoes
What if your system calls for a more robust solution? You may want heavy-duty T-style shoes. These are designed for the biggest elevated piping systems out there.
Still, even if you know you need these sturdier T-style supports, you have several options:
Welded—Want a sturdy, permanent solution? You can weld the pipe shoe directly to your pipes. This is a simple option that uses an easy installation process. However, if you're worried about metal-on-metal contact, or if supports are set up in an environment that's vulnerable to chloride stress corrosion cracking, it's not the best choice.
Bolt-on—These are supports that have two clamps built in. One big advantage here is that bolt-on T-style shoes lift pipes away from your base material. This means that the pipe is isolated. By pairing these supports with liners, you can avoid metal-on-metal contact and reduce pipe wear.
U-bolted—These shoes are designed to use U-bolts as a harness around your pipes. Because they use U-bolts, they're easy to install and adjust. At the same time, you can cut down friction and metal-on-metal corrosion by adding finishes or liners.
Pre-Insulated Pipe Shoes
When it comes to metallic supports, pre-insulated pipe shoes are the big dogs. They're designed with insulating materials built in. This means that they completely engulf your pipe, stop metal-on-metal damage, and reduce temperature loss. They're made to support heavy loads and can hold up in both hot and cold environments.
The downside to pre-insulated supports? They're big and made to stay in place. If you need to transport them long distances or plan on making custom changes down the line, they might not be your best bet.
Types of Composite Pipe Shoes
CryoTek Pipe Shoes
CryoTek Pipe Shoes are quickly becoming a go-to for piping systems that run in extreme temperatures. They work in temperatures as high as 400 degrees Fahrenheit, and as low as -320 degrees Fahrenheit—making them a top option for gas liquefaction, ethylene, and cryogenic process systems.
Additionally, these shoes have foam-insulated cores. This means they're lightweight and have higher insulation properties than pre-insulated supports.
ProTek Pipe Shoes
ProTek Composite Pipe Shoes are also built for extreme temperatures. They're a popular choice for plants, refineries, and rigs because of their resistance to chemicals and UV rays. These supports also feature airtight chambers that stop thermal energy from escaping pipes.
Not keen on welding shoes to your pipes? Composite supports may be your solution.
Both CryoTek Pipe Shoes and ProTek Composite Pipe Shoes secure pipes without welds. Instead, ProTek Composite Pipe Shoes are fastened to the pipe using stainless steel bands, while CryoTeks are installed with high-grade epoxy adhesive.
Finding the Right Pipe Shoe to Fit Your System
So, which is the best pipe shoe out there? It depends on your piping system and your team's priorities. This means that the key to finding the perfect support is understanding your system and how different pipe shoes will complement your pipes.
Need a deeper look into pipe shoes and how they work? Contact us here, and we'll be happy to answer questions about your next project.